MEET OUR TEAM
Each and every one of IBIMS team represent the spirit of our company: driven, committed, and acutely aware of how limitless IBIMS's potential is to grow.
We go to great lengths to identify self-starters with diverse experience and skill sets to produce not just an effective workforce, but a well-rounded, talented and complementary IBIMS team.
BOARD OF DIRECTORS

DR. MOHAMMED A. HAKAM
Managing Director
Dr. Mohamed is our managing partner and CEO, he carries more than ten years of experience in both industrial project management field and BIM Implementation sectors.

ENG. MOHAMMED HASSAN
BIM Manager and Partner
Mr. Hassan is our BIM manager and head of BIM division at IBIMS with more than Seven year in architectural BIM implementation through globally recognized projects.

ENG. AHMED MOHARAM
BIM Manager and Partner
Mr. Moharam is our structural BIM division department head, with
more than Six years in design of multiple structure types using BIM
and advanced VDC tools.
ENGINEERING DEPARTMENT

Eng. Esraa Samir
Senior Str. BIM Engineer

Eng. Mohamed Kasem
BIM Model Manager

Eng. A. Rahman Sarhan
MEP BIM Engineer

Eng. Heba Ibrahim
Architectural BIM Engineer

Eng. Gehad Ali
Architectural BIM Engineer

Eng. Nervana Mahmoud
Structural BIM Engineer

Eng. Duyna Ezzat
Structural BIM Engineer

Eng. Amany A. Hameed
Structural BIM Engineer

Eng. Alaa Saad
Architectural BIM Engineer

Eng. Aya E. Bana
Architectural BIM Engineer

Eng. Sahar Taha
MEP BIM Engineer

Mohamed Essa
Structural BIM Specialist

Eng. Rania Ismail
Architectural BIM Coordinator

Eng. Amr Mostafa
Structural BIM Engineer

Eng. Nourhan Nasser
MEP BIM Engineer
ADMINISTRATION DEPARTMENT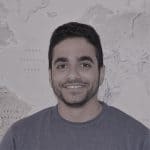 Mr. Islam Mohamed
Accountant

Miss. Amany Nazeeh
Executive Secratery